Burlen, the world's sole manufacturer of genuine Skinners Union (SU), Amal, and Zenith Carburettor brands, and owners of the J40 Motor Company, announces a new brand centre at Bicester Heritage located in Building 87 on the Western Avenue, also known as the Old Fire Party House.
A unique 'motoring marina' setting, Bicester Heritage is now home for 45 specialist automotive businesses across a beautiful 444-acre former WW2 RAF Bomber Training Station, the site now being held as a national exemplar of constructive conservation by Historic England since being founded in 2013. The location has a vision to provide a vibrant future for classic motoring, through the provision of apprenticeship schemes, celebrating the historic motoring sector through engagement and interaction, an ethos that perfectly aligns with that of Burlen.
WHEN YOU CLICK ON LINKS TO VARIOUS MERCHANTS ON THIS SITE AND MAKE A PURCHASE, THIS CAN RESULT IN THIS SITE EARNING A COMMISSION. AFFILIATE PROGRAMS AND AFFILIATIONS INCLUDE, BUT ARE NOT LIMITED TO, THE EBAY PARTNER NETWORK AND AMAZON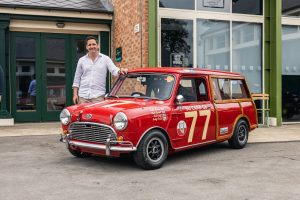 While all carburetters, and associated parts will continue to be manufactured in Salisbury, as well as those of the J40 Motor Company, the Bicester Heritage site will be used as a brand showcase centre and entertaining area, both regularly open to visitors.
Burlen at Bicester will showcase a range of products from Amal, SU and Zenith carburetters, along with curated items from each brands history. A number of classic display vehicles will also be on site including the famous Burlen racing Minis, classic American hotrods and a variety of classic cars. In the near future a range of carburetters, parts and accessories will be on sale to Bicester Heritage specialists and site visitors alike.
The J40 Motor Company will also call Bicester Heritage its home, with a permanent display of Austin J40 pedal cars, spares, and accessories available to view and purchase.
Burlen will also create a relaxing lounge area designed to suit the style of the architecture of Bicester Heritage while showcasing the history of the Burlen brands through historical artifacts, products, technical drawings, and material from the company archives.
Doors open at Burlen for the October 10th Scramble and the team looks forward to meeting guests and enthusiasts at their first event as residents, with a request that visitors appreciate the building will not yet be fully operational.
Mark Burnett, Burlen's Managing Director, said "Burlen has served the classic vehicle community for many years, and looks forward to becoming a part of the community at Bicester Heritage. We are proud to work alongside the experts, specialists and talent residing on site and feel we perfectly align with the experiences and services guests to the site have become accustomed to. While we won't be fully open in time for the October Scramble, we will be on site, with open doors, ready to greet enthusiasts and share our vision for the future."
Dan Geoghegan, CEO, Bicester Heritage adds: "Despite the humble carburettor no longer taking centre stage in the contemporary motoring industry, it remains a key component for classics. It's a pleasure to have another family-focused business join us, and we look forward to seeing their collection at our upcoming Scramble event."
A number of unique Burlen events, opportunities and experiences will soon launch at Bicester Heritage, with more details to follow.