As Beaulieu makes the final preparations for the return of its International Autojumble on 4th and 5th September, you still have the chance to join the trading and book your last-minute stand, to sell off your surplus spares and enjoy a great motoring weekend.
Stand spaces in the event fields are almost gone, but you can still book your spot in the Grand Marquee, with 10ft X 10ft covered stands still available that are ideal for a busy weekend of trading, regardless of what the great British summer weather may hold. It's the ideal opportunity to sell off your unwanted motoring parts, books, automobilia or retro items, and join a community of autojumblers for an unmissable two-day celebration of old motors.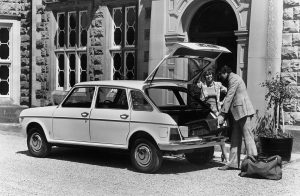 Are you looking to sell your classic or vintage car or bike? Then why not book an Automart space and sell your vehicle at the show, where it will be showcased to thousands of potential buyers over the course of the weekend. Who knows, maybe you'll find your next project up for sale in the Automart too?
A Grand Marquee space for the weekend is £225, while an Automart vehicle space for the Saturday and Sunday of the show is just £96.50. Book your place by calling the Beaulieu Events team on 01590 614614. Visit beaulieu.co.uk/events/international-autojumble for more details.
A brand new display for this year's International Autojumble is Forgotten Favourites, with 50 cars representing everyday motoring of the Sixties, Seventies and Eighties already booked in.
From a low-mileage 1964 Austin 1100 and 1978 Triumph Dolomite 1300, super-rare 1975 Wolseley 18-22 'Wedge' and Australian-built 1974 Leyland P76, to a scarcely-seen 1980 Fiat 131 Supermirafiori, a 1960s Vauxhall Viva HA Deluxe, a 1980s Volvo 480ES, a distinctive 1972 Austin-Morris J4 Canterbury Seeker campervan and more, all manner of fascinating motors will be parking up in the colourful display.
While a special line-up within Forgotten Favourites will celebrate Hagerty's Festival of the Unexceptional, with immaculate examples of cars that were once common but now rarely seen, including a Nissan Bluebird, Volvo 340, Triumph Toledo, Renault 10 and Nissan Micra.
The weekend's Bonhams MPH auction will have you reaching for your chequebook, as a wide variety of extraordinary cars and treasured collectables go under the hammer. Amongst the lots on offer are a 1905 Lorraine-Dietrich two-seater sports racer, estimated at £80,000 to £120,000, a 1927 Vauxhall 30-98 OE-Type Tourer at £200,000 to £250,000, and a 1959 Bristol 402 Drophead Coupe originally owned by actress Jean Simmons, estimated at £150,000 to £200,000.
Much smaller but equally eye-catching is a 1933 American Austin 'woodie' station wagon, a rare transatlantic version of the Austin Seven, estimated at £18,000 to £24,000. A recently restored 1978 Ford Escort Mexico is estimated to fetch £38,000 to £45,000, while a 1985 Land Rover 90 V8 County with just 38,000 miles on the clock is estimated to sell for £22,000 to £26,000.
The sale of automobilia will take place on the Saturday of International Autojumble at 10.30am, while the motor cars sale will take place on the Sunday from 10.30am. Admittance to the sale room is by pre-booked catalogue, visit www.bonhams.com/auctions/26811 to register.
Early one-day and two-day visitor tickets are still available, with a limited number of premium giving priority parking, fast entry and a complimentary showguide. For more details and to book your tickets, visit beaulieu.co.uk/events/international-autojumble/tickets. Exhibitors can book their stands by contacting the Events team at events@beaulieu.co.uk or 01590 614614.
Visitor and participant tickets include entrance to all that Beaulieu has to offer, including the National Motor Museum, Little Beaulieu, On Screen Cars, the ancestral Montagu home Palace House, Secret Army exhibition, 13th century Beaulieu Abbey and the stunning grounds and gardens. Visit www.beaulieu.co.uk for more information.