Bicester Heritage is pleased to confirm that it will once again be opening its doors for historic motoring enthusiasts to join the October Scramble event, on the 10th of October, with the release of 5000 tickets.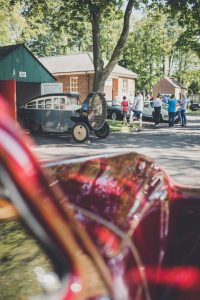 From 9am until 2pm, attendees will be able to live, breathe and experience historic motoring at its best, offering the chance for enthusiasts to bring their pre-1990 classic car, join the display and experience a behind the scenes glimpse of the hub for historic motoring enterprise at the best-preserved WW2 RAF Bomber Station in the country.
The 45 industry-leading Specialists based at Bicester Heritage will open the doors to their freshly restored 1920s and '30s buildings, allowing behind the scenes access to their showrooms and workshops (specialising in upholstery, vintage Bentley engineering, specialist storage, vintage, classic and racing car and bike sales, plus much more) on a site that is normally accessible by appointment only. Guests will also be able to enjoy refreshments from on-site beverage producers Wriggly Monkey Brewery and Sky Wave Gin, alongside guest traders and a classic motoring 'Auto Jumble' held in Hangar 113.
The Scramble events, now in their seventh year, attract tens of thousands of automotive enthusiasts from around the world. The October event provides an excellent opportunity to celebrate Bicester Heritage's ongoing partnership with classic vehicle insurer Hagerty, one of the world's largest automotive lifestyle brands, and the successful launch of Scramblers in June 2021, a new membership club born from the success of the Scramble events.
Scramblers and the Scramble events exist to celebrate the historic motoring sector and the magic in the driving and preservation of classic cars, while making these experiences accessible for future generations and families.
Dan Geoghegan, CEO, Bicester Heritage adds: "We are thrilled to be able to throw open our doors to welcome classic car enthusiasts, seasoned petrol heads and junior drivers along to what promises to be a special Scramble event. Our Heritage quarter lends itself beautifully, providing a magical backdrop for curated displays and a few surprises along the way."